Let's face it.
If you're selling anything online, you need to build a relationship with people.
That's how you turn visitors into customers. And that means you need to write content that connects with people.
But how do you do that?
Unfortunately, it's not something they teach you in high school. Or at University. But it's a skill you can learn. And once you've learned how to do it, the Internet is at your feet.
Here are some common problems people face when they write online articles:
=> How do I begin?
=> How do I make my writing lively and engaging?
=> How do I connect with my readers?
=> Why are my readers hitting the back button after the first paragraph?
=> How do I write an article title?
=> How do I end my article?
It's Getting Harder and Harder to Get Noticed
The sheer volume of online content that's being produced now means that you have to become an above-average writer if you want to stand out.
The truth is most people who start out blogging fail within the first year. It's sad but its true.
And the reason they fail is because they don't know how to create a connection with their visitors.
It's not their fault - they simply don't have the tools. No one taught them how to write.
I don't mean the writing you learn in school. Or the academic writing you learn in college or university. That kind of writing won't help you on the Internet.
On the Internet, you have to connect with your reader immediately. Like within 2 or seconds. Because if you don't, they're off to another website. And you'll never see them again.
Techniques and formulas that will transform the way you write
Writing content that keeps your readers on the page is the key to building an online audience. And as I'm sure you know, if you want to run any kind of online business, you need to 'find your tribe' and connect with them.
A lot of people think that writing is a skill you either have or you don't have. People are born with it, or they're not.
Nothing could be further from the truth. It's a skill, and like any other skill, you can learn it.
Persuasive writers with large followings of online readers use a number of techniques and formulas. Once you understand those techniques, how they work, why they work, and where and how to use them, you too can become a powerful online writer.
With the skills you learn in this course you'l be able to write content that connects with your target audience. And you'll build a following of readers who want your products and services.
Using these techniques, I've taken my website from an Alexa Rank of 28 Million to an Alexa Rank of 122,000 in just 2 years:
Here's what's in the course

Module 1: Choosing a Topic
With these two techniques you'll have enough topic ideas to keep you going for the next 2 or 3 years! If you follow the technique in Lesson 01, you'll end up with very high topical authority for your website because you'll be covering every topic that Google associates with your niche.
Module 2: Choosing a Blog Post Type
In Lesson 01, learn about the six different types of blog post and how to write them. Two of these blog post types are great for getting backlinks and social media shares - every new blogger should be using them in their first year online! In Lesson 02 discover a simple technique for knowing which type of blog post top use and when.


Module 3: Writing the Title
Five times more people will read your title than the article itself. That's why it's crucial to write article titles that exactly what people click on. In Lesson 01, discover two formulas for writing compelling titles that always work. In Lesson 02, learn how to use these formulas by completing the exercises - writing catchy titles will become second nature.
Module 4: Writing the Article
Learn how to write articles that pull your readers in from the first sentence! When readers find your article, they have a problem and they're looking for a solution. In Lesson 01, I show you a formula that addresses that need. It's a formula that nearly all successful bloggers use. In Lesson 02 I show you how to create an outline and how to use it to write the body of the article. Using this technique, writing your article is almost as easy as filling in the blanks. In Lessons 03 and 04 I show you the writing technique that expert bloggers use to create a connection with their readers and keep them moving down the page. Do the 40 exercises that I give you in Lesson 04, and your writing will never be the same. This is the most powerful writing skill you'll ever acquire. In Lesson 05 I show you how to bring your article to a close, something that most bloggers don't do well.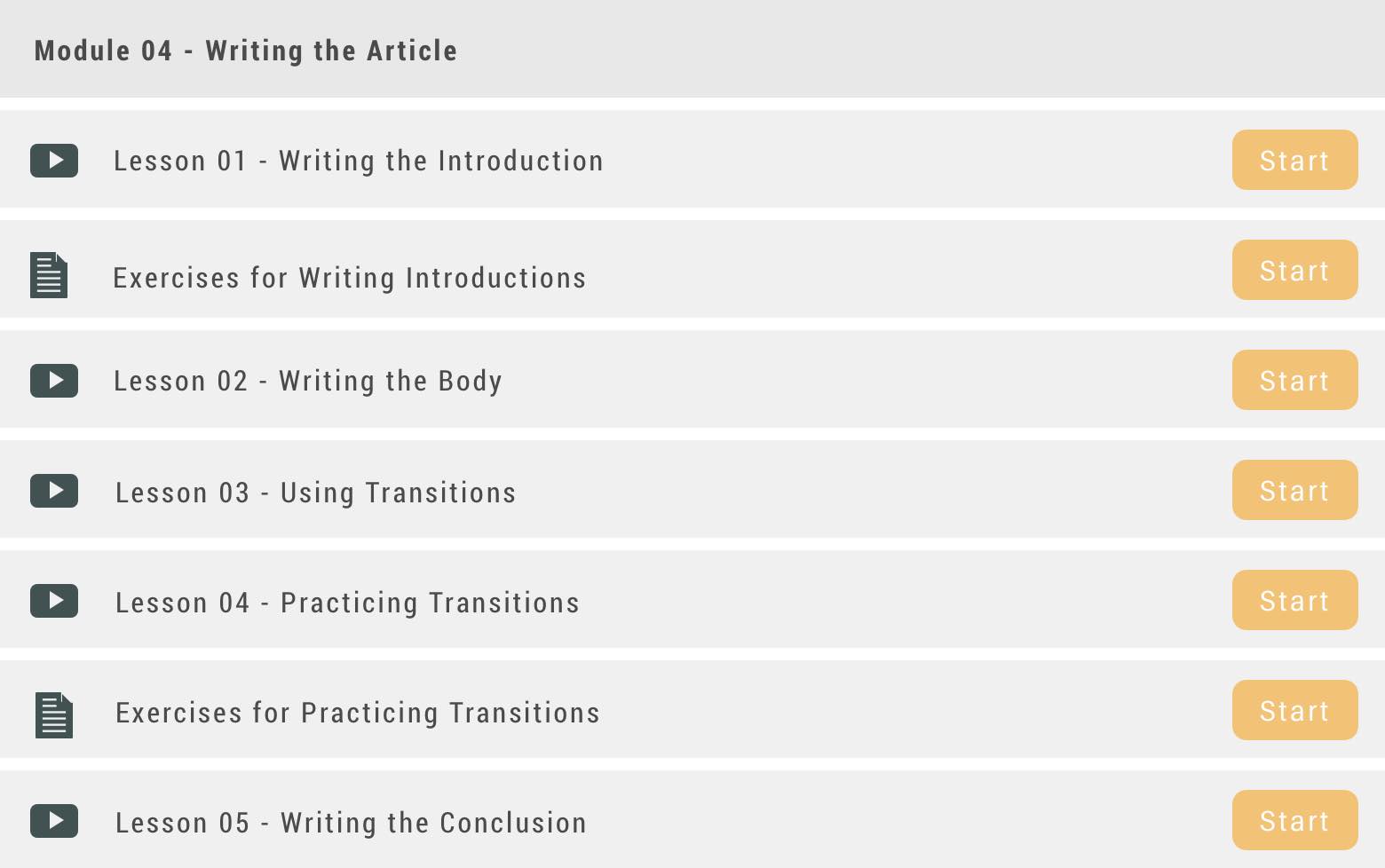 Module 5: Using a WordPress Page Editor
In Module 05 I show you how to use Wordpress drag-and-drop editors. In Lesson 01, I show you how to use the free drag-and-drop editor that comes with WordPress. In Lesson 02 I provide an overview of the main premium drag-and-drop editors. And in Lesson 03 I give you a live demo of how to create a bog post using Thrive Architect, in my opinion the best drag-and-drop editor on the market.
Module 6: Editing and Proof Reading
Module 06 is all about Editing and Proof Reading. This is a vital step and one that many writers don't do properly. In Lesson 01 I give you five grammar tips that will make your writing much more powerful. In Lesson 02 I show you two (free) online tools that you should always use before hitting 'publish'.
Use this area for description text.


Module 7: Productivity and Workflow
In Module 07, I share with you productivity and workflow tips that will transform the way you write. Lesson 01 gives you thirteen tips will save you time and make you a more powerful, productive, and efficient writer. Lesson 02 is a live video that shows you the workflow I use to research, write and publish an article, from start to finish.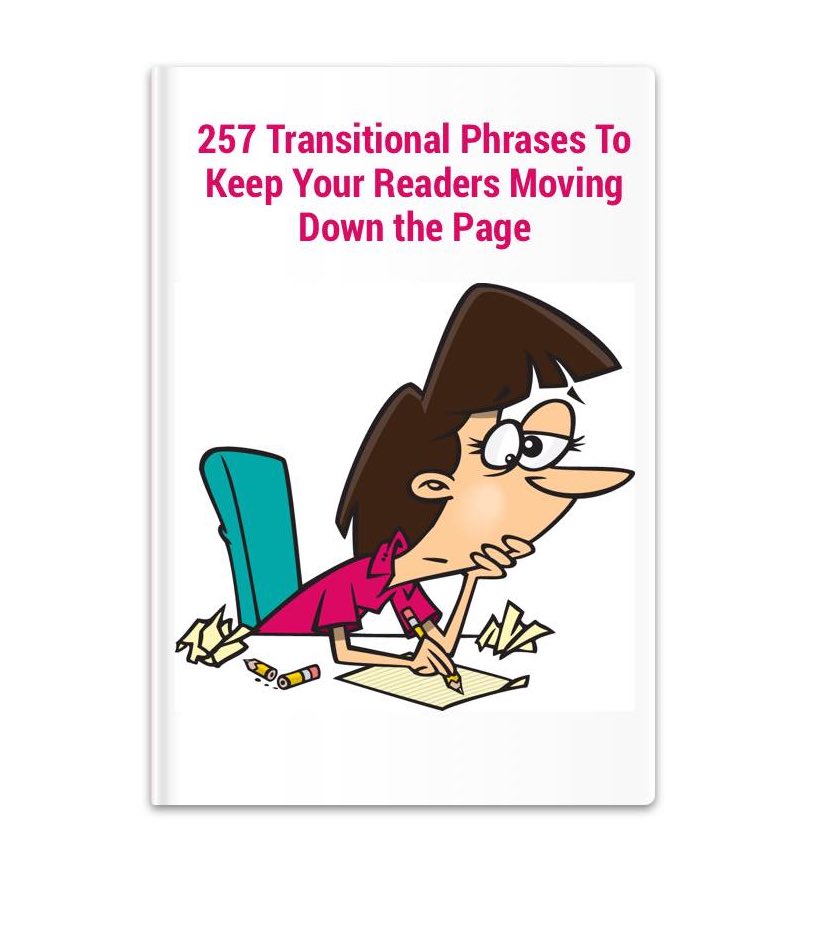 257 Transitional Phrases To Keep Your Readers Moving Down the Page
Expert bloggers use these transitional phrases to keep their readers glued to the page. 
Armed with this list of transitions, you'll never again be staring at a blank screen, wondering to write next.
Here's a sample of what's in thePDF:
=> But think about it this way
=> Contrary to popular belief
=> Does that mean you should avoid...
=> Ever noticed how ____
=> Here's something you probably don't know:
=> Keep reading and you'll find out…
=> Let me be a bit more specific:
These are the kinds of transitional phrases that turn your article into a conversation and build relationships with your readers.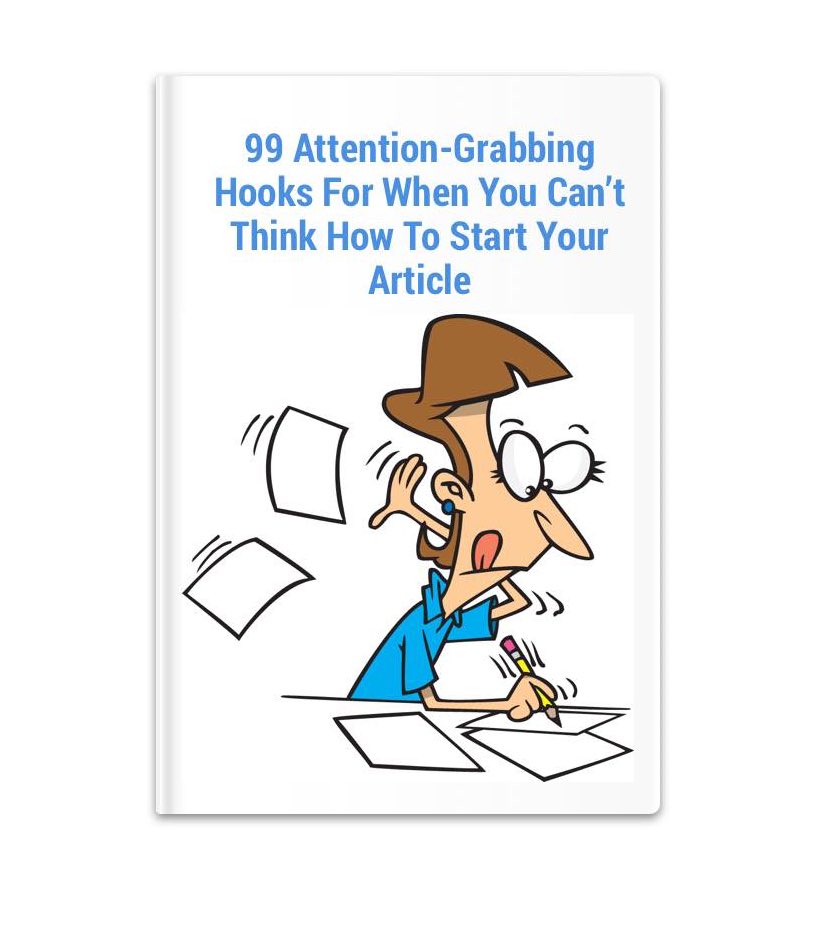 99 Attention-Grabbing Hooks For When You Can't Think How To Start Your Article
A hook is the opening sentence of your article. There's so much content out there competing for people's attention that you need an attention-grabbing first sentence.
Here's a sample fo what's in the PDF:
=> You've heard the advice a million times, right?
=> This is painful to say, but… 
=> Strange feeling, isn't it? 
=> OK, confession time — 
=> Frustrating, isn't it? 
These hooks are guaranteed to stop your readers in their tracks...and keep reading your article!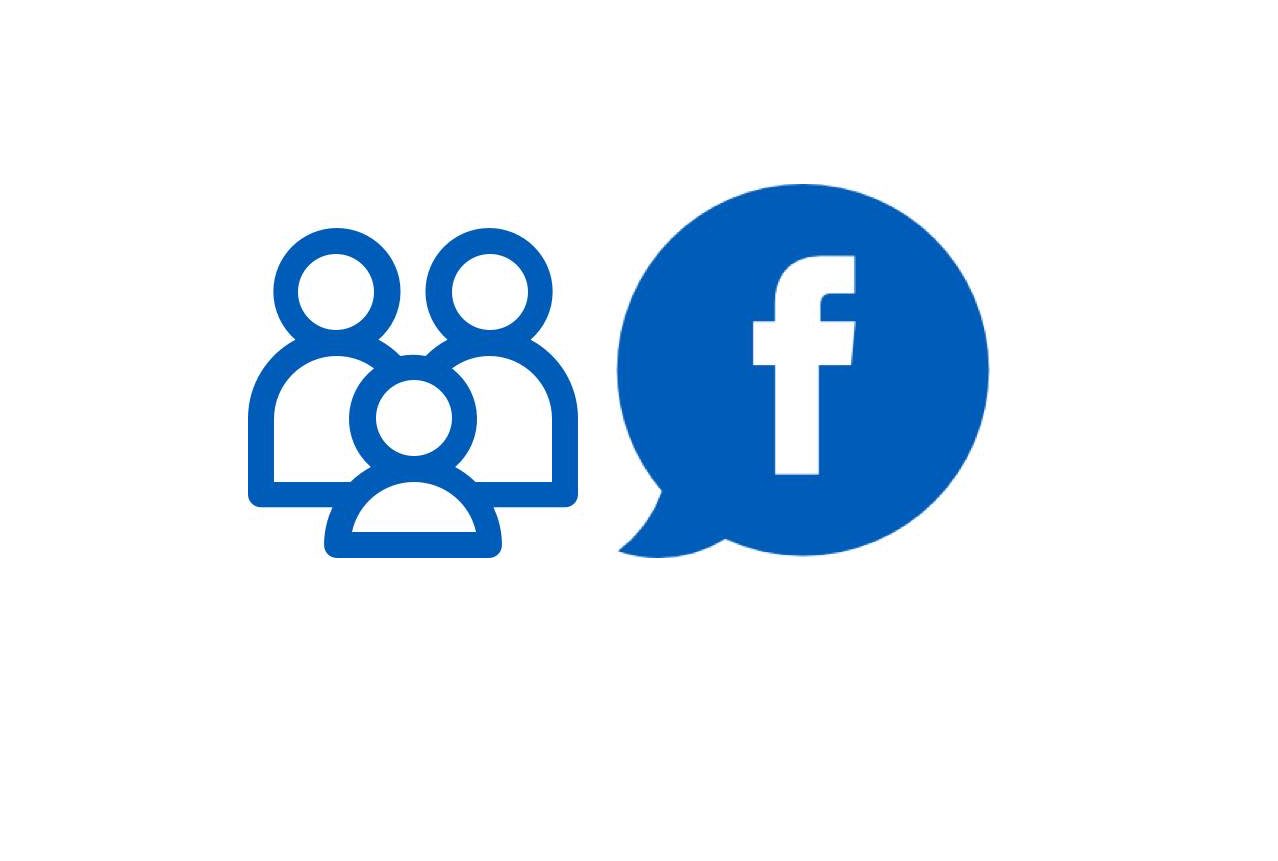 Private Facebook Group
Ask me any question you like, and get an answer within 24 hours!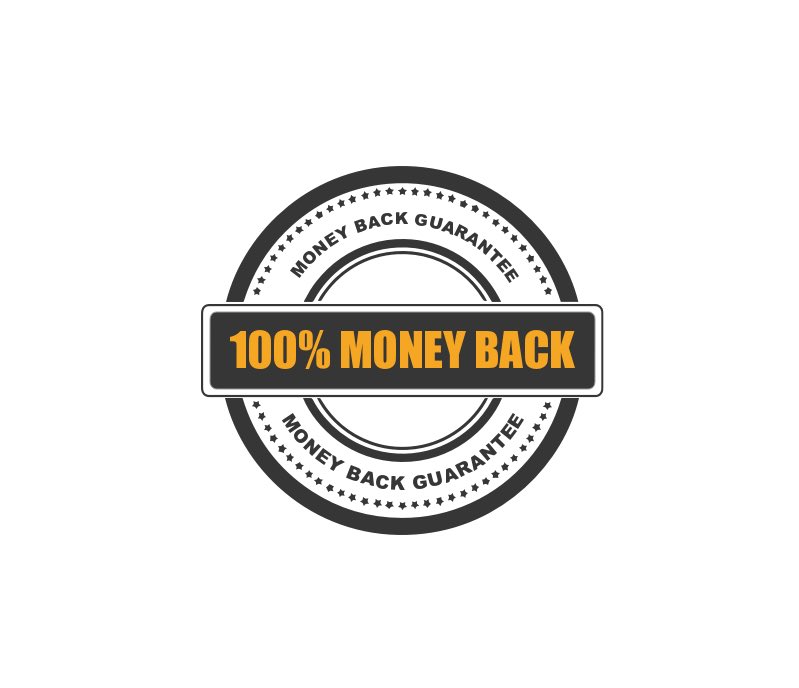 My 30 Day No Questions Asked Money Back Guarantee
I know what it's like when you're about to buy a course. You're excited by what the course might do for you, how it could change your life. But you also have some nagging questions at the back of your mind. What if it doesn't work for me? What if I try it and realize that it's just not "my cup of tea"? What if I buy it and then realize that I don't like the sound of Rob's voice in the video lessons?
Well, don't stress!
Just send an email to me, within 30 days, with the following subject line: "Rob, I want a refund". And that's all you have to do. I'll issue you with a refund within 24 hours, with a smile on my face. And I won't you ask you any questions.
About the Course Creator, Rob Powell
I started blogging back in early 2017 and tried all the usual stuff: Facebook, Twitter, Pinterest, blog commenting, Influencer Outreach, etc. None of it worked. My traffic was a flat line. Then I started doing SEO and my traffic started growing. But what really changed things for me was when I discovered the technique I show you in Page #1 Traffic Surge. That's when my traffic took off. Once I discovered the secret to getting my articles on Page #1 of Google, it was just a matter of scaling it up. And that's what I've been doing ever since.
I live in tropical North Queensland with my wife and two daughters and when I'm not working on my website, I'm cooking, or exploring the beaches, forests, and natural swimming holes of this tropical paradise.