Are you pulling your hair out trying to get traffic to your website?
It's frustrating!
There are times when you may even feel like giving up altogether.
I know because I used to be where you are now. Staring at a flat line in Google Analytics - and trying to work out what it takes to turn that line into an upward slope.
The fact is the Internet offers amazing opportunities for those who understand how it works.
But the competition is intense. It's more intense today than it's ever been before.
It's Getting Harder and Harder to Succeed Online
What worked ten years ago doesn't work anymore. Why? Because the competition has increased. There are just so many people with blogs and websites. And they're all competing for the same pool of traffic.
A lot of the big names in your niche - the ones you look to for advice - started out five or ten years ago.
But getting established on the Internet was much easier back then.
The Problem with Social Media
If you're starting out in online business, chances are someone has told you that social media is the key to getting visitors to your website.
Here is why social media is not a good source of traffic.
Social Media Quicksand
Posting content to social media is like throwing a pebble onto quicksand.
It stays there for a few seconds, and then it sinks down, never to be seen again.
Here is the half-life of a social media post:
a Tweet lasts 18 to 20 minutes and then disappears forever
a Facebook post lasts 2.5 to 5 hours and then disappears forever
an Instagram post lasts 19 hours and then disappears forever
Page #1 of Google
By contrast, here are the benefits of organic traffic from Google:
Page #1 blog posts deliver passive, residual traffic for months (I have Page #1 articles that have been sending me traffic for over a year)
Each new blog post builds on the traffic from the last blog post – you're not starting from scratch every time (as you are with social media)
When you rank on Page #1 of the search results, you become an expert
Get highly targeted traffic: when people find your page in the search results, it means they are looking for what you offer
Because search engine traffic is targeted, it converts much better than social media traffic
My Story...
I started blogging back in January of 2017.
And tried all the usual traffic-building methods:
Pinterest
Guest Blogging
Influencer Outreach
 forum commenting
Facebook
Twitter
None of them moved the needle on my traffic.
I was publishing a new blog post every week. But I had nothing to show for it. My traffic was a flat line. ​I was beginning to wonder if I could make this blogging thing work.
Then I started doing keyword research for every new blog post. But my articles were ranking on Page #5 of the search results. I still wasn't getting any traffic.
And then one day it dawned on me - Google was telling me exactly how to rank on Page #1 for any keyword. So I started studying the top 5 pages for any given keyword. I would pull each page apart, I would analyze it from top to bottom.
And I began to understand why those pages were ranking on Page #1. Basically, I reverse-engineered the content that was already ranking for that keyword.
The result?
My blog posts started appearing on Page #1 of the search results. Sometimes in position #1!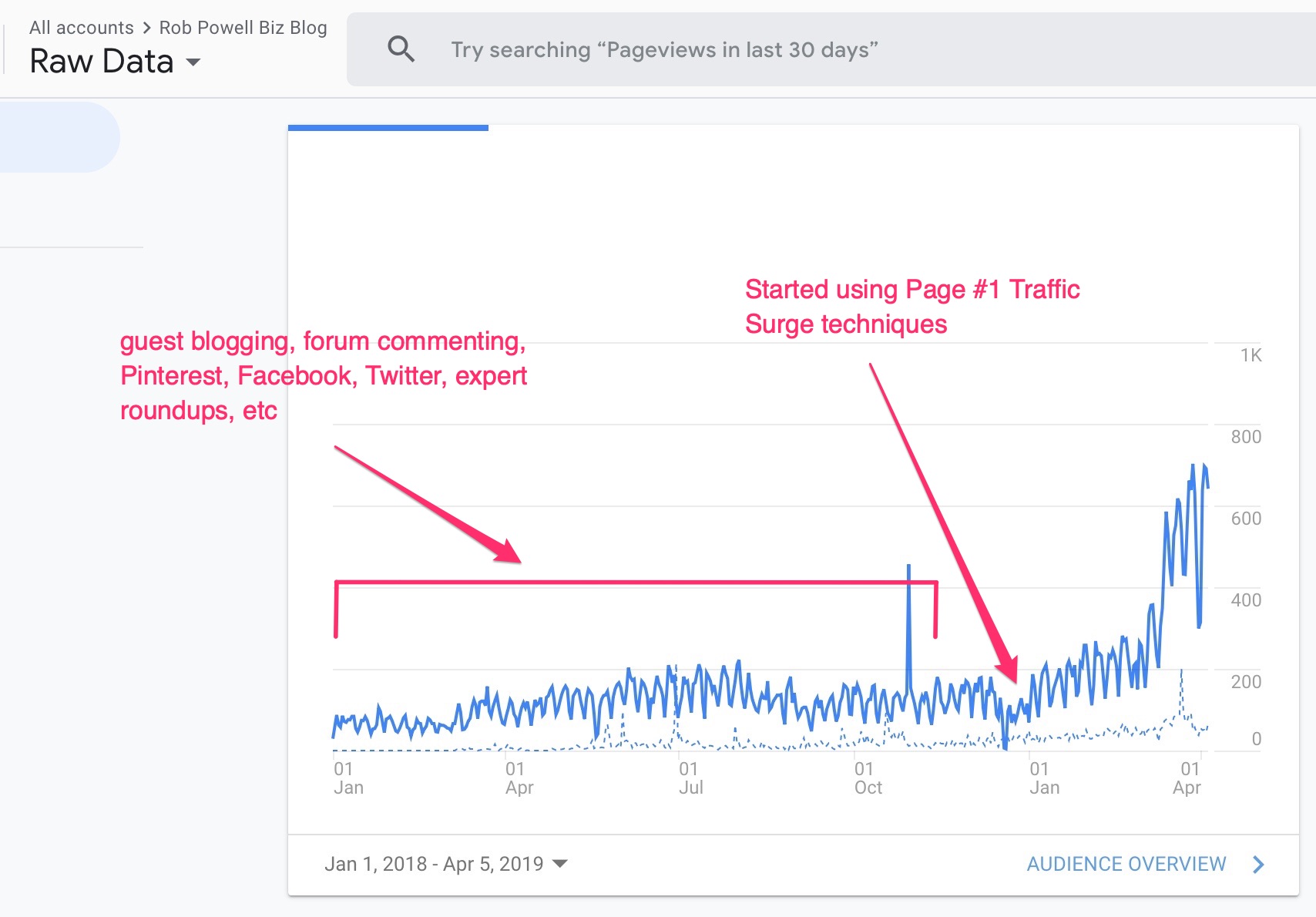 Goodbye to Flatlines
My traffic started climbing. The days of staring at flat lines were over. For the first time, I could see evidence that my blog was growing.
Now that I'd discovered how to get traffic to my website it was like I'd been given a new lease of life. I had a spring in my step and a lot more energy.
Why?
Because I had found a technique that worked. I knew that all I needed to do now was (1) write more content, and (2) improve my SEO strategies.


My List Started Growing Like Crazy
With this surge of traffic my list started growing like crazy.
I would get three or four new subscribers every day.
And that made me realize something about search engine traffic: it's highly targeted and so it converts very well.
Why?
Because people go to search engines to solve a problem. So, when they find your article in the search results, they've already qualified themselves as potential subscribers ort potential customers.
That's very different to social media traffic. People go to social media to catch up with friends and colleagues – not to solve a problem.
6 Common Mistakes You're Probably Making
1. You think you have to be an expert to land on Page #1 of Google 
Wrong – that's how you become an expert! Google has enormous power and prestige. Once you start ranking on Page #1, some of that prestige will rub off on you.
2. You think SEO is just too difficult
 Wrong – SEO is simply matching content to what searchers are looking for. Once you understand the secrets to doing that, SEO is not difficult.
3. You think your niche is too competitive to rank on Page #1 of Google
Wrong – with any niche whatsoever, there are long tail keywords where the traffic is relatively low, but the competition is also low. It's just a matter of finding those opportiunities.
4. You don't do keyword research before writing blog posts
No one should ever write a blog post without targeting a keyword for which they ono they have a good chance of ranking on Pahe #1 of Google.
5. You tried SEO, it didn't work, so you decided it wasn't for you
Big mistake! About 40% of all referral traffic on the Internet now passes through Google. That's a massive river of targeted traffic looking for what you are offering. And its free! If you know how to tap into it, that river of traffic will float your business and take you where you want to go.
6. You're targeting keywords you simply cannot rank for
In every niche there are keywords that are so competitive you just don't stand a chance of ranking for. This goes back to keyword research. Every blog post should start with keyword research. Before you even put 'pen to paper' (or open a Word document) you need to have found a keyword that you know you can rank for on Page #1.
Page #1 of Google - The Key To Building Your Business
The fact that you're reading this page is proof that these techniques work.
Why?
Because it means you're on my list.
And if you're on my list, it means you found one of my articles on Page #1 of Google.
It's as simple as that (I don't do social media or paid advertising or use any other source of traffic - my traffic is 100% organic search from Google).
Here are the reasons why organic traffic from Google is the best foundation for your business:
Get an endless supply of targeted leads
Stop paying for advertising
Be seen as an expert (because you rank on Page #1 of Google)
Get new subscribers every day

Create a traffic machine that feeds your business
With Page #1 Traffic Surge, You Will Learn How To:
=> Research and write articles that have more topical authority than any other blog post on Page #1 of Google
=> Use mind maps to quickly create your article structure
=> Find seed words for your niche
=> Do standard keyword research as well as competitor keyword research
=> Learn how to optimize your blog posts with On Page SEO
=> Stay on Page #1 of Google using my Nine Page #1 Domination Techniques
=> Write the two kinds of blog posts that quickly build domain authority
=> Get 'do-follow' backlinks from high domain authority websites using Micro Guest Blogging (minimal effort for maximum gain)
=> Find and destroy toxic backlinks that are pulling down your website and holding you back.
=> and more...
What You Will Get and What You Will Learn
Let's take a look at what you will learn and get inside each of the 12 modules:
Module 01
In Module 01 I show you why Google Search is a bonanza for bloggers and I show you the three things you have to do well to show up on Page #1 of Google.
Module 02
In Module 02 I explain the two factors you need to understand to get on Page #1 of Google: 1) how Google ranks content, and 2) searcher intent. I also give you an overview of 'On Page SEO' and 'Off Page SEO'.
Module 03
In Module 03 I explain why 'nicheing down' is vital when it comes to getting ranked on Google. I show you what a well-defined niche is and how to find a niche using keyword research.
Module 04
 In Module 04 you'll discover the new Google ranking factors that are changing the way SEO works. I'll show you the new Google ranking factor that will allow you to get on Page #1 of Google even when if have low domain authority (DA).
Module 05
In Module 05 I give you the best explanation of keyword research you'll find anywhere. I show you the different kinds of keywords and how they relate to searcher intent. I show you a simple exercise that every blogger should be doing at the start of their SEO campaign. And I give you an introduction to the various keyword research tools and what they do.
Module 06
In Module 06 I walk you through KWFinder and show you the exact steps I take when I do keyword research. I show you how to find keywords that will land you on Page #1 of Google. I explain why Keyword Difficulty is not the critical factor in choosing your keywords, I show you another factor that is absolutely VITAL in choosing a keyword that will get you on Page #1 of Google.
Module 07 
In Module 07 I show you a live video clip that shows you how to do competitor keyword research in SEMrush. This technique allows you to literally steal the keyword strategies that your competitors are using. Why re-invent the wheel when you can copy what's already working for other websites? But there's a catch to competitor keyword research that many people only discover when it's too late. I've got a solution to it, and I'll show it to you in this module.
Module 08
In this module I show you how to research and write articles that rank on Page #1 of Google. This is the core of my approach to SEO. These are the research and writing techniques that allow me to rank on Page #1 of Google and outrank websites with much higher domain authority.
Module 09
In Module 09 I show you the 13 On-Page SEO factors that will help you get your articles on Page #1 of Google.
Module 10
In Module 10 I show you the nine Page #1 Domination Techniques I use to beat the competition on Page #1 of Google. These techniques will help you stay on Page #1 and beat the sites that rank above you.
Module 11
In this module I explain to you what domain authority (DA) is and I show you the five keys to building higher domain authority. I also show you how to quickly and easily eliminate toxic backlinks (if you don't deal with them, toxic backlinks will harm your link profile).
Module 12
In this module I show you the five techniques I used to take my website from a DA of 1 to a DA of 37 in just under two years. One of these techniques is what I call 'Micro Guest Blogging'. As far as link building goes, it's the best kept secret on the Internet. Using this technique, I earned a do-follow link from a website with DA of 91. And all I had to do was write 150 words! With this technique there's no 'cold calling' - these websites come to you, practically begging you for content! 
My Students Get Results
The techniques I teach in Page #1 Traffic Surge get results!
Lorrie Schoettler is a micro-farmer who shows people how to grow their own food. She blogs about seasonal food, how to grow it and delicious recipes for using it in the kitchen.
Lorrie purchased my course in April 2019. In September of this year, Lorrie posted in the Page #1 Traffic Surge Private FB Group that she had just landed her first Page #1 ranking.
In fact, Lorrie did better than that!
When she wrote the FB post, Lorrie's page was in Position #3.
But now, a few weeks later, her page is in Position #1.
And not only that:
She also has a Featured Snippet, the most prized real estate in the search results:
Ndifreke is another of my students who got on Page #1 of Google. This is what he recently posted on Twitter:
This is how Ndifreke ranked for 'instagram ads hacks':
Notice that he outranked web pages with much higher domain authority:
This is something you can expect when you follow the techniques I teach in Page #1 Traffic Surge - your pages will consistently outrank websites with much higher domain authority (DA).
Here's what customers are saying about Page #1 Traffic Surge: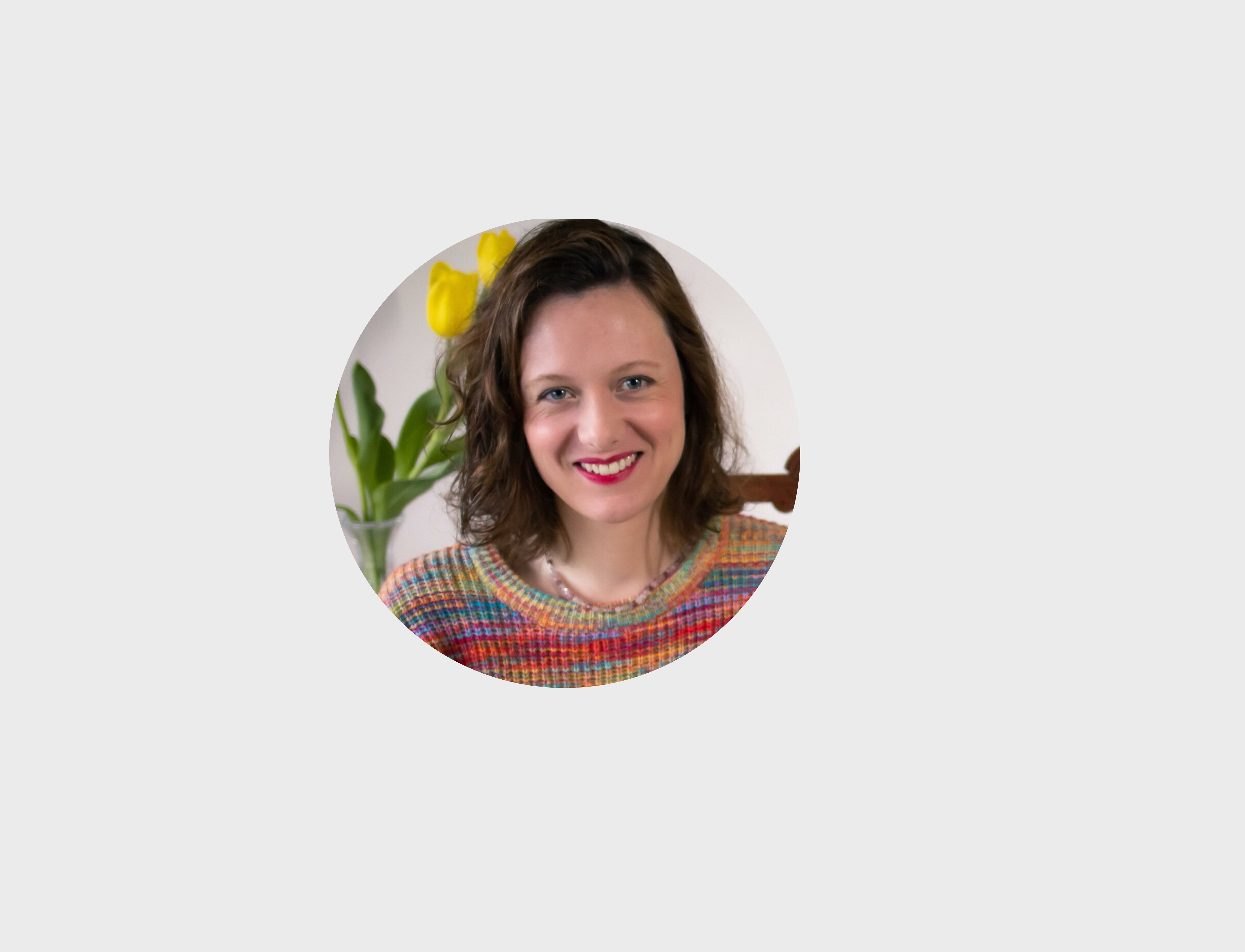 "Everyone confused by SEO should take your course"
"Your course was fantastic. I really think your system is genius, and taking it made me feel like I could actually tackle this. It also explained why one blog I wrote has gotten to the first page of Google despite my having a domain authority of 6. I had no clue how it got there, but now I do! I think everyone confused by SEO should take your course. I'm so glad that I did."
- Colette Nichol // https://storyenvelope.com/
"I always end up ranking on Page #1 within a few days"
I used your SEO strategies in one of your courses I purchased sometime ago, and now my site with DA 20 outranks authority sites like Google, Yahoo, Bing, PCMag, etc for some high volume keywords. In fact for all my main target keywords I always end up ranking on page #1 within a few days because of topical authority which I first heard from your video course. When I check my stats on http://ubersuggest.io/ and ahrefs.com I always remember your first course I purchased was worth the investment.
- Ndifreke Atauyo // https://www.bestsoftnigeria.biz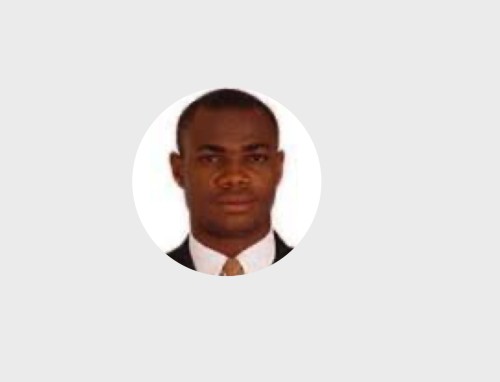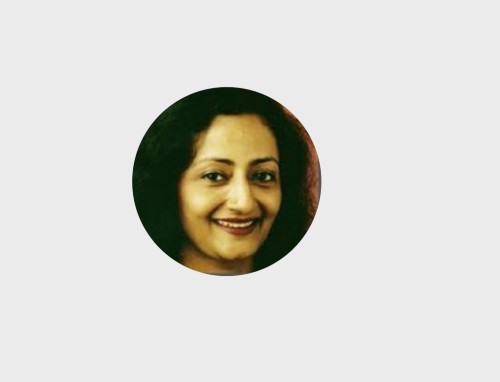 "Rob Powell is easily one of the best people to learn from on this topic"
I can feel the big difference it's making, not just to my blogging approach and attitude, but also to my blogging rigor and discipline. Lots of similar courses may exist. But Rob Powell is easily one of the best people to learn from on this topic.
- Shobha Ponnappa // https://solohacks-academy.com/
"Excellent in its clarity"
Excellent in its clarity and manageable in the steps described. Everything is explained clearly and I am in absolute love with the 21-day action plan.
- Lorrie Schoettler // https://lorrieseason.com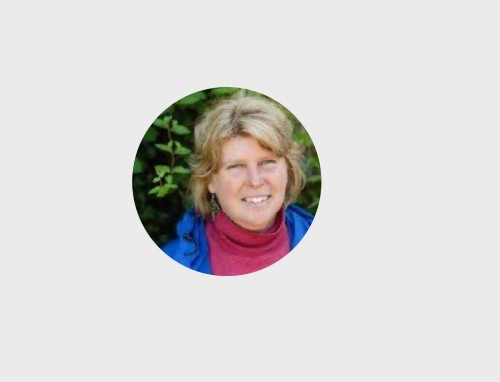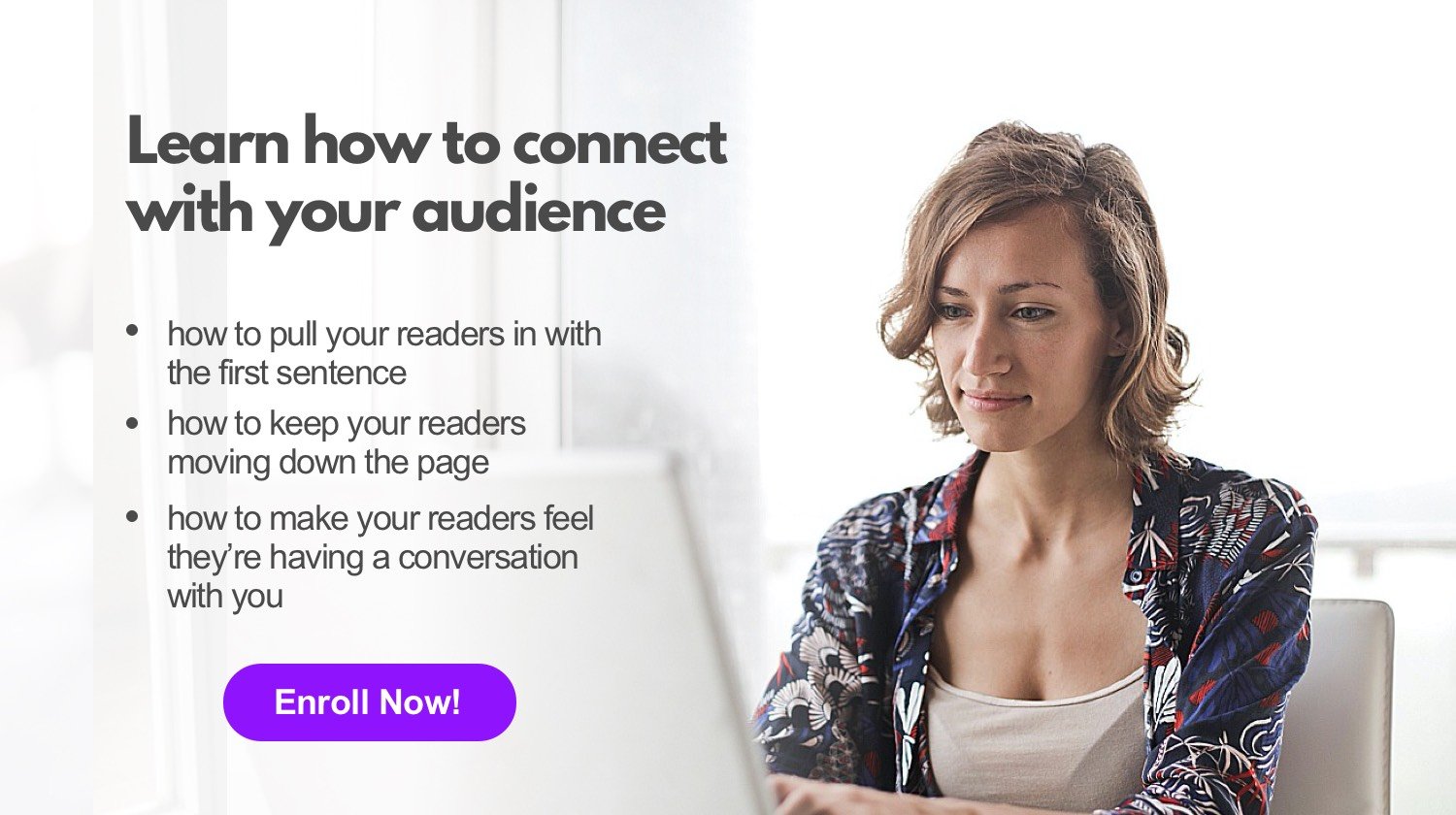 BONUS #1 - Laptop Writer (value = $127)
=> 7 module video course
=> Limited time (normally $127)
=> Write article titles that get clicked
=> Use transitions to increase user engagement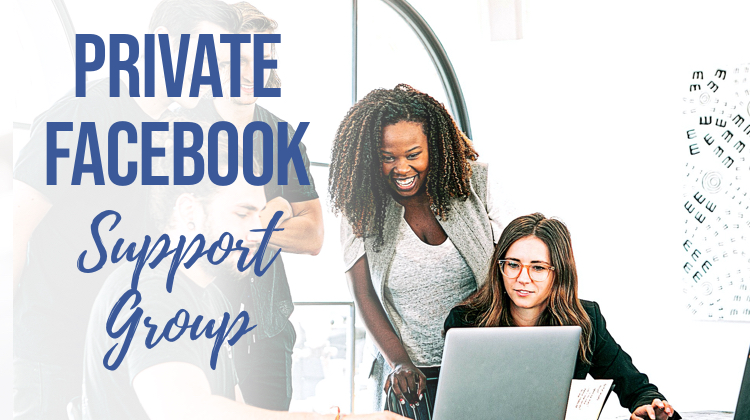 BONUS #2 - Facebook Support Group (value = $97)
=> Ask me questions and get answers (within 24 hours)
=> Learn from others on the same track
=> Be part of a community of like-minded people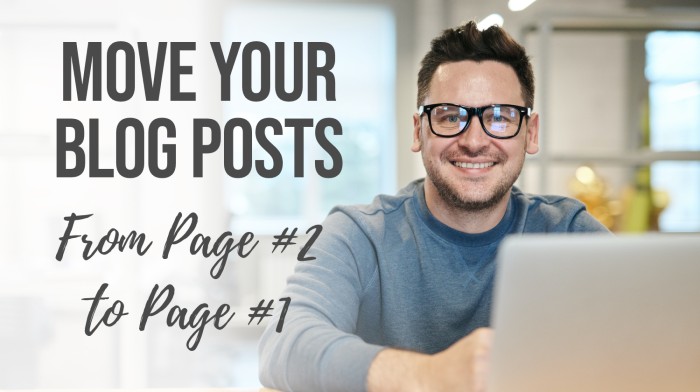 BONUS #3 - Move Your Articles From Page #2 to Page #1 (value = $97)
=> This is low-hanging fruit (easy win)
=> Simple techniques - easy to implement
=> 15 mins on each article is all it takes
How Is 'Page #1 Traffic Surge' Different To Other SEO Courses?
Most SEO courses teach an array of techniques for improving your SEO: keyword research, On-Page SEO, building backlinks, Google Analytics, Technical SEO, etc, etc. My course covers those topics as well. But my approach to SEO focuses on creating content with high topical authority. That's what allows me to outrank websites with much higher DA than me. And that's the core technique I teach in 'Page #1 Traffic Surge'. The Google algorithm is moving away from keywords - it's placing much more importance on topics. And that's what separates my course from other SEO courses.
Who Is Page #1 Traffic Surge For?
This course is for you if:
=> You've created a course and you want to sell it by sending targeted traffic to your landing page
=> You write product reviews packed with useful insights (and affiliate links) and you want to drive targeted traffic to those product reviews
=> You're a freelance graphic designer and you want to find clients by sending targeted traffic to your landing page
=> You want ti build your list by sending targeted traffic to your lead magnet
=> You have en evergreen webinar and you want to rank your offer page on Page #1 of Google and get a constant stream of new leads into your funnel
=> You coach beginning bloggers and you want to get more clients
=> You have a local business and you want to get more customers from your local area
What's Holding You Back?
SEO Is Too Complicated
There's a very common belief that SEO is too complicated for the average person. That's why you have all these "SEO experts". It's partly true - SEO has many moving parts. There are many factors involved in why one piece of content ranks on Page #1 of Google and another doesn't. But do you have to understand all these different factors in order to get on Page #1 of Google?
Not all all! Just as you don't have to understand the internal combustion engine in order to drive a car.
Just follow the techniques I go through in the 12 modules, and your content will rank on Page #1 of Google. Following the techniques in the course is the equivalent of turning the key in the ignition (as opposed to reading an engineering text about internal combustion engines).
What About Algorithm Updates?
Google is constantly trying to improve the match between what people search for and what they find in the search results. And that's why we have these algorithm updates every few months. But as long as you're not practicing the dark arts of "black hat" SEO, these updates wont affect you. I've had some dips in my traffic, for sure. But in the two years I've been doing SEO, my traffic has been steadily growing.
There's Too Much Competition in SEO
This another common misunderstanding about SEO. Of course, getting on Page #1 of Google is competitive. But there's a direct relationship between volume of traffic and level of competition. As a rule, the more words in your keyword phrase, the smaller the volume of traffic and the lower the competition. So if you know how to do long tail keyword research (I show you how to do this in Module 8) you can always find keywords that you can rank for on Page #1 of Google. Sure, the volume of traffic is lower, but those long tail keywords convert better than 'head' keywords, so you need less long tail traffic (I explain this better in the course).
I Tried SEO and I Ended Up On Page 57 of the Search Results
Truth is, we've all had that experience. In the first 4 months of my SEO journey, my content was never higher than Page 2 of the search results (and let's face it, if you're on Page 2, you might as well be on Page 57). But that's why I've created this course. So that you can go straight to Page #1. Save yourself the learning curve I went through and get it right the first time!
Will This Work for My Niche?
I get this question a lot and the answer is: Yes, it will. This question is a bit like asking: are there any niches or topics that Google doesn't cover in its search results? Now, there is another issue: some niches are more competitive than others. But again, it's just a matter of finding the long tail keywords that allow you to escape the 'feeding frenzy' of competitive keywords.
How Long Will It Take Me To Get on Page #1 of Google?
If you target low-competition keywords (which I show you how to do in the course) you can get on Page #1 of Google within 90 days. In some niches, it may take a bit longer. There's no doubt about it: SEO is a long game. But so is building a business on the Internet. If anyone promises you overnight results, it's almost certainly a scam. While SEO does take time, once you're on Page #1, it's passive, residual traffic. I have articles that rank on Page #1 and they've been there for 18 months (some of the them in Position #1).
How Much Writing Does This Involve?
I started off writing two articles a month. I now write an article every week (because my research and writing process has become more streamlined and efficient). To do well in SEO, you do have to produce a constant output of content. But that goes for anything on the Internet - to get noticed you have to be a content-producer (unless you pay for your traffic).
What's the Time Commitment Involved?
You'll need to set aside an hour a day during the week and two hours a day on the weekend. As with anything, the more time you spend on this, the quicker you'll get results. But 9 to 12 hours a week will be enough to get started and see some results.
I've Never Written a Blog Post Before
I can still remember my first blog post. I knew how to write (I have an academic background) but I had no idea what writing style I should use. Writing for the Internet is different to writing offline. On the Internet people don't read, they scan. And that means you have to format your article in a particular way. Also, on the Internet you're not just informing your reader - you're trying to create a relationship with them. If your reader feels that you understand them, that you're having a conversation with them, they'll stay on your page for longer. And that's going to increase your 'time on page', a metric that Google studies very closely. More 'time on page' means that your content will rank higher in the search results.
It took me a full 18 months to learn the 'ins and outs' of writing content that engages online readers. Writing engaging content is one of the keys to ranking on Google. And that's why I've included my premium training course, Laptop Writer, as a bonus with Page #1 Traffic Surge. Laptop Writer teaches you how to write irresistible article titles, how to write Introductions that pull your readers in from the very first sentence, and how to use transitional phrases to keep your readers moving down the page.
So don't worry: by the time you've finished my 7-module Laptop Writer course, you'll have no trouble writing your first blog post.
My 30 Day No Questions Asked Money Back Guarantee
I know what it's like when you're about to buy a course. You're excited by what the course might do for you, how it could change your life. But you also have some nagging questions at the back of your mind. What if it doesn't work for me? What if I try it and realize that it's just not "my cup of tea"? What if buy it and then realize that I don't like the sound of Rob's voice in the video lessons?
Well, don't stress!
Just send an email to me, within 30 days, with the following subject line: "Rob, I want a refund". And that's all you have to do. I'll issue you with a refund within 24 hours, with a smile on my face. And I won't you ask you any questions.
About the Course Creator, Rob Powell
I started blogging back in early 2017 and tried all the usual stuff: Facebook, Twitter, Pinterest, blog commenting, Influencer Outreach, etc. None of it worked. My traffic was a flat line. Then I started doing SEO and my traffic started growing. But what really changed things for me was when I discovered the technique I show you in Page #1 Traffic Surge. That's when my traffic took off. Once I discovered the secret to getting my articles on Page #1 of Google, it was just a matter of scaling it up. And that's what I've been doing ever since.
I live in tropical North Queensland with my wife and two daughters and when I'm not working on my website, I'm cooking, or exploring the beaches, forests, and natural swimming holes of this tropical paradise.